Belmont

Belmont leading Team Iceland
Medabot(s)
Gender

Male

Nationality

Icelandic

Race

Human

Status

Medafighter

First Appearance
Last Appearance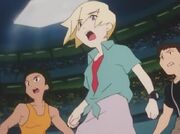 Description
Belmont is a Medafighter that appears in the Medabots anime series. He is the leader for Team Iceland during the recent World Robattle Tournament and is partnered with the Medabot Orkamar.
In the anime
Belmont befriended Ikki and Erika when the latter was studying Team Iceland before their match against Victor and Team Kenya. However, before the match, Belmont got sick in a cold river by saving his Medabot from an avalanche and Erika from the same river. During that time, Erika became attracted to Belmont's personality and their relationship strengthened when Belmont became sick.
Being sick, Belmont was unable to concentrate fully during the Robattle and lost to Victor's Team Kenya.
While he was still in the hospital, he was seen watching the final match of Japan vs. Kenya through the hospital's television.

Other members of Team Iceland:
Ad blocker interference detected!
Wikia is a free-to-use site that makes money from advertising. We have a modified experience for viewers using ad blockers

Wikia is not accessible if you've made further modifications. Remove the custom ad blocker rule(s) and the page will load as expected.