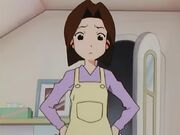 Chidori Tenryou is Ikki Tenryou's mother.
In the anime
Chidori is the kindest woman you could ever meet. She is so nice, she wasn't angry at all when Ikki and Metabee destroyed the family CRT television by spilling water on it during a fight. Her personality is infectious and even Metabee is polite and sucks up to her. She loves to help others and enjoys cooking, even cooking meals for the entire Rubberobo Gang at one point. She also enjoys doing laundry and absolutely insisted on cleaning Victor's clothes when she accidentally got them wet. She can be blind to people wanting to do harm, not understanding why they would want to do anything like that. At times she can be thoroughly oblivious and fully ignore things people say in the process.
In Medabots (GBA)
In stark contrast to her personality in the anime, Chidori is very strict in the video games. She is enraged when she sends Ikki on an errand to buy groceries, only to see him return instead with a Tinpet, Parts and none of the money. She believes Ikki's dad spoils him. She declines to take Ikki to the amusement park, despite his clear disappointment and sadness at not being able to go. When Ikki starts moping, instead of consoling him, she insists that he control himself.
Medabots owned
She is only a Medafighter in the GBA RPG. She has the same Medabots as Milky:
Ad blocker interference detected!
Wikia is a free-to-use site that makes money from advertising. We have a modified experience for viewers using ad blockers

Wikia is not accessible if you've made further modifications. Remove the custom ad blocker rule(s) and the page will load as expected.