Gillgirl, named Surume in Japan, is a character from Medabots.
Description
Gillgirl is the lone female in the 4 commanders of the Rubberobo Gang, and is most frequently described as being the "looks" of the disfunctional team. Beautiful and cruel, in the video games she had a habit of Robattling newcomers to the Rubberobo gang as a way of taking out her frustrations, something looked upon negatively by her peers. However, she eventually met her match in this way when her victim turned out to be a disguised Ikki Tenryou.
In the Metabee version, she uses Stone Mirror, a Medusa type Medabot. In the Rokusho version, she uses Circulis, a succubus type.
In this game, she uses the magician-type Medabot Magicalcard.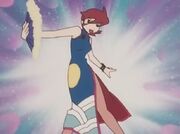 Her real name is revealed to be Gilda Girlnikova, and her two Medabots are Seagaru and Spiritus. Though more dimwitted than dangerous in the anime, often keeping to the sidelines and letting her fellow Rubberobos fight on her behalf, she did display her ruthless side when she challenged Ikki to a Robattle for his mother after becoming addicted to her delicious soup.
Related Characters
Ad blocker interference detected!
Wikia is a free-to-use site that makes money from advertising. We have a modified experience for viewers using ad blockers

Wikia is not accessible if you've made further modifications. Remove the custom ad blocker rule(s) and the page will load as expected.