Hanumonkey
Model No.
HNM-0
Type
Monkey
Parts
Head:
 ???
Right Arm:
 ???
Left Arm:
 ???
Legs:
 ???
Appearances
Medarot R (Japan only)
Medabots Spirits

Hanumonkey is an HNM-type Medabot based on a monkey.
Description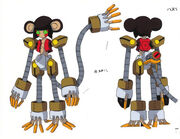 Hanumonkey's name comes from Hanuman, a Hindu deity referred to as a monkey god. Its arms, legs, and tail are very long and flexible, making it an agile and tricky Medabot to fight against. It specializes in physical attacks and setting up traps.
In the anime
In Medabots Spirits, The Brat Brothers used 3 Hanumonkeys as Kilobots to defeat Ikki and Zuru.
Related Medabots
Ad blocker interference detected!
Wikia is a free-to-use site that makes money from advertising. We have a modified experience for viewers using ad blockers

Wikia is not accessible if you've made further modifications. Remove the custom ad blocker rule(s) and the page will load as expected.