Comadog
Model No.
COM-0
Type
Guard Dog
Parts
Head:
Morning Call
Right Arm:
Right Beam
Left Arm:
Left Beam
Legs:
Dog Race
Appearances
Medarot 1, Medarot 2, Medarot R, Medarot 4, Medarot 2 CORE, Medarot Damashii, Medarot Card Game

Comadog (コーマドッグ), english name Komandog, is the only COM-type Medarot based on a guard dog and is specialized in Beam attacks. It first appeared in Medarot 1.
Description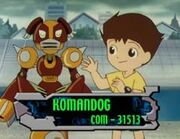 Comadog has a resemblance to a
komainu
, this is, a guardian dog, with a wheel as his legs. However Comadog is specialized in
Beam
attacks, and thus, is able to do a huge ammount of damage, while sacrificing his speed and precision. His legs don't make him suit to battle in sand, but in hard, flat terrains.
In the anime
He is seen by the first time as owned by a boy named Tateyama. Ikki challenges him to a Robottle, tying his Metabee's arms. Despite that Ikki wins the Robottle with relative ease. This happened prior to changing Metabee's parts to Saikachis's.
Related Medabots
Ad blocker interference detected!
Wikia is a free-to-use site that makes money from advertising. We have a modified experience for viewers using ad blockers

Wikia is not accessible if you've made further modifications. Remove the custom ad blocker rule(s) and the page will load as expected.