Welcome to Medabots Wiki!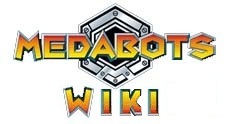 The Medabots wiki that anyone can edit!
---
Recent Changes - All Pages - Help - Browse Categories - Forum
---
Announcements
October 18, 2012
Due to a lack of input in this topic, I've decided to go head with my plan of overhauling the whole wiki to focus on English-released parts of the franchise. The Site will also be switching back to English terminology (Medabots instead of Medarot), although this process will probably take a while!

The overhaul will involve deleting any pages relating to games/manga that were only released in Japan for now. Since most of these pages have little to no info on them I don't feel it will be that much of a loss, but if you suddenly really want a page that you worked on restored, please let me know! (It should be easy enough to do.)

I'm doing this because I think it would be very helpful for Medabots Wiki to narrow it's focus to something more manageable, at least until it regains a dedicated userbase. We should also try to distance it from Medapedia which will continue using Japanese terminology and focusing on the video game series. I know that many people aren't fond of the Japanese names, so I think focusing on the English releases will breathe new life into the project and make it possible for it to develop into a great knowledge resource. :D

If you have any questions or concerns with the overhaul, you can discuss it in this topic (same as before).

In other news, Medabots Wiki is still looking for a new admin. If you're interested in becoming someone who takes care of page deletions, blocking vandals, etc. (and you plan on sticking around), please leave me a message on my talk page and I'll see about setting you up. Please don't remove this message until a new admin has been chosen!

~ Kimbles (talk) 18:26, October 18, 2012 (UTC)
Helping out
To write a new article, just enter the article title in the box below.
Medabots Wiki is always looking for new editors. If you can contribute in any way, please do. From improving articles to just telling a friend about the wiki, any help is welcome and appreciated!
Getting started:
To help out, you can:
What is Medabots Wiki?
Medabots Wiki is a collaborative website about the Medabots Franchise that aims to be a complete resource for information about the anime series, manga, and games.

This Wiki is open for anyone to edit, on any Medabots-related subject. Check out the FAQ to help you get started!
External links
News
September 13, 2012 - Medarot 7 has been released for 3DS in Japan!
Wiki news
October 18, 2012 - Medabots Wiki now focuses on the English Medabots releases and no longer uses Japanese terminology. (Older content can still be found on Medapedia.)
Ad blocker interference detected!
Wikia is a free-to-use site that makes money from advertising. We have a modified experience for viewers using ad blockers

Wikia is not accessible if you've made further modifications. Remove the custom ad blocker rule(s) and the page will load as expected.