Atheist
Model No.
LHB-0
Type
Longhorn Beetle
Parts
Head:
Antaner
Right Arm:
Metakiller
Left Arm:
Dokkanboh
Legs:
Tatakkiri
Appearances
Medarot 2, Medarot R, Medarot 2 CORE, Medarot (anime)

Atheist (エイシイスト), english name Papyrak, is an LHB-type Medarot that appears in Medarot 2. It is based on a longhorn beetle, intended as a counterpart to Rokusho.
Description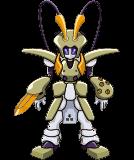 In terms of abilities and design, Atheist is very similar to Rokusho. It has a sword on its right arm and a hammer on its left, and focuses on close-range combat. Unlike Rokusho, Atheist is pale green in color, and has two tall, backwards-curving antennae on its head. There are also two mandible-like pieces hanging from its cheeks, similar to Smilodonad.
Atheist's name is a pun stemming from the japanese word for longhorn beetles, kamikirimushi (カミキリムシ). While this literally means "hair-cutting bug" (髪切り虫), it can also be read as "god-cutting bug" (神切り虫), leading to the name "Atheist". Its english name origin is unknown, but may be based on papyrus.
In the games
In Medarot R
Kouji Karakuchi has Atheist as his partner Medarot when you Robottle him in a tournament.
Related Medarots