Shrimplips, named Salami in the Japanese version, is a character from Medabots.
Description
Shrimplips is the youngest and most level-headed of the 4 main leaders of the Rubberobo Gang, and the one responsible for recruiting kids into joining the Rubberobos, attempting to bribe them with promises of power, or even free Medals. Ironically the "brains" of the Rubberobo command team, he dislikes adults, and believes that the future depends on the younger generation.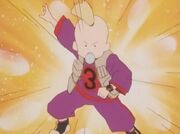 In the anime, his secret identity is revealed to be Shrimpy Lippowitz, and he uses the Medabots Gokudo, Hakado, and Sir Gold, three Medabots based off the iconic chracters of the Chinese classic tale Journey To The West. The most loyal favorite of Dr. Meta-Evil, he nevertheless suffers from multiple childish behaviors and disorders that frequently hold him back, such as itchy diaper rash.
In both the Rokusho and Metabee versions, he uses Gentleheart, a giant golem type Medabot.
Oddly enough, Shrimplips is the only Rubberobo leader with the same Medabot in both versions.
In this game, he owns Rhinorush, a rhinoceros type Medabot.
Related Characters
Ad blocker interference detected!
Wikia is a free-to-use site that makes money from advertising. We have a modified experience for viewers using ad blockers

Wikia is not accessible if you've made further modifications. Remove the custom ad blocker rule(s) and the page will load as expected.